9/11
R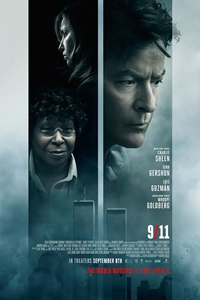 play trailer
▶


Play Trailer
It's the morning of 9/11, a messenger sings "Happy Birthday" to his daughter, a billionaire argues with his wife in a divorce hearing, a maintenance man begins his day, and a young Russian decides she's breaking up with her sugar daddy. When the first plane hits World Trade Center, these 5 elevator passengers find themselves trapped. Forced to band together, they fight against all odds to escape before the unthinkable collapse occurs.Their story is about courage, faith and the will to live.
DetailsDrama
1 hr. 30 min.
Opened September 8th, 2017
Rated R for languageCastCharlie Sheen, Whoopi Goldberg, Gina Gershon, Luis Guzmán, Wood HarrisDirectorMartin GuiguiWriterPatrick Carson
Wed 12/31 Showtimes
No showtimes available
on this date.